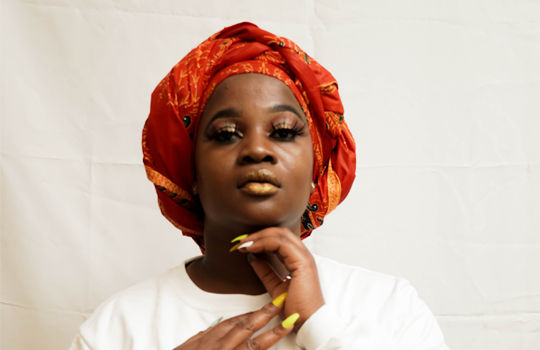 MY MOTHER DIED
A couple of weeks past we have been celebrating my younger cousin's marriage.i remember during magadi celebration i looked around and saw women of age dressed in beautiful tswana showls like this. It was so beautiful and i started desiring to see bomme ba kgabile yaana ba nnyadisa. Something then sank in my mind and i held back tears. I noticed that even the elders from my family's side that were introduced, I didn't know not one of them.
I later said to my aunt, 'kante ke tsile go nyadisiwa ke mang?' She asked what do you mean? And i said; You see all this elderly people who are gathered here today, they didn't come because Fiko and his new wife called them, they came because thier parents called them. Batsadi ba,ba kgobokantswe ke the bride and grooms parents,not the bride and the groom themselves. But as for me,my mother is dead and my father has never been a part of my life,ga kena batsadi,so who is going to gather the elders like this for me; because even those that are left are fighting me.'
Yall know i lost the most significant women in my life end of last year who stood in the gap for my birth mother. While i was still mourning my 2nd mother, my sister died a month after her. What y'all dont know is that when i was supposed to mourn my sister my family gathered against me,started arguments and ended up chasing me and my late sister's daughter from her funeral. We had to go to dikgosi and district commisioners to atleast ask them to go to the family and ask for my niece to burry mother. Atleast for her since i was clearly not welcome. The both of us didnt even have time to mourn coz we were busy fighting bo malome. The Saturday right from mabitla my family gathered around, called a meeting and i had to sit for an hour plus listening to my uncles assasinate me. Hee wee ga o na maitseo,hee wee bo mmamelao mogolo ba gago bo go ratisa dilo(as if i ever announced to anyone of them that im a lawyer).
For a whole hour i listened to my mother's birth brothers,my own blood, the men who were supposed to raise me and cover me on behalf of their late sister; I listened to them call me names,curse me, being told im going to die young because ke rata dilo. I watched each one of them joined by other family members, some i was seeing for the first time and won't even know them when i meet them but they had something to say about me.
I sunk into the greatest depression of my life after that, not so that because my family ganged up on me no, but because when i was supposed to mourn my sister and get closure i was being attacked left right and center. So who will stand up for me when i get married!?
Im not sharing this because i want to embarass my family or whoever. But im saying this because when some of yall are busy enjoying this day and celebrating your mothers and people that have stood in the gap for you someone of us swallow bitter tears because we look back at what the loss of our mothers have caused us. I dont underestimate the influence some women have contributed in my life, but i sit down and look back and realise some of the things iv been exposed to i wouldnt have experienced them if my mother had been alive.
You see im a blessing to you guys because i share things and encourage you from my life experience but this is what it has cost me to be a blessing to you. If i would have it another way i would ask God to spare me, to spare my mother; not to allow me to cry some of the tears iv cried.
So today in church when i saw mothers dressed like this again, it was beautiful but i kept on fighting back my tears from streaming down because to me it was a reminder that my mother died.
I can never forget the words of my uncle after my mother passed. I had passed by his house to greet him, just to greet him but the conversation ended up in him hauling words like 'mmago o sule ka boomo a le tlogela lo sena sepe, nna ga kena madi (i wasnt asking for money by the way i just went to greet him)'. He continued 'mmago o sule ka boomo a lo tlogela lo thubela batho malapa, tsamaa o ye ko monneng yoo ebile gatwe o nna ko go ene'.(your mother died on purpose/its her fault that she died,leaving you with nothing. I dont have money to give you. Infact why dont you go back to the man whose marriage you wrecked because aparently you stay with him). Remember the accusations of marriage wrecking i told you about, this is where it was coming from.
I left his house broken and my sister said 'why do you think we dont go to his house!'
You see a mother is a covering, not to look down on the fathers;but a mother is a shelter. Some of yall are so far in life because your parents are alive and they cover you, especially with blessings and in prayer. Some of us are naked and have been naked for the good part of our lives. You see us fighting for marriage, promotion, to make it in life;not because we are not good enough or qualified enough but because we dont have a covering, a mother that keeps on speaking good things in our lives.
We are fighting the words of our enemies, family members that hate us for nothing, neighbours whom we irritate because they are simply comparing us to thier children who are not far in life.
I never understood this phrase until life hit me head on. Please dont mock anyone in life, you don't know what they are fighting in secret. Each time i hear someone say mama my heart shrinks a bit because if mothers could be raised from the dead i would raise mine even just for a second...
But God, see me now; I'm not far in life but im far bra. God has brought me this far. God each and everyday proves to me that Modimo o phala baloi. He proves to me that though my mother is gone im not an orphan, I'm covered by Him. Like i said, the negative words iv heard from my enemies are enough to last me a life time but God beats each and every one of them every day. I can also today say "mama i made it"...
i can also dream because i know the blessing of the Lord upon my life over rides every enemy's bullet towards my life.
Beloved, i dont know what the gap of your mother left in your life has pushed you to,i dont know who fought you even for your mothers inheritance,i dnt know who raped or molested or abused you because you did not have the covering of your mother. But i can rest assure you that Modimo o phala baloi. I am a leaving testimony that God fights for orphans and He is the Father to the fatherless.
So i want you to pick up your head, chest out and walk like a victor. Unfortunately for some of us we had to learn how to fight and be resilient in life because if you dont fight for your destiny and life who will. But get up, you are not alone, God is your mother and father...
Hey look at me now, if God can honestly make something out of a nobody like me, He can surely make something out of you. You just need to trust him...
#happy mother's day to our mothers in heaven
#giantslayer